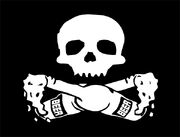 The Corona Company Bounty HuntersEdit
The Rest of the CrewEdit
| Name | Position |
| --- | --- |
| April Rain | Engineer/Shipwright/Sex Symbol |
| Kiske | Musicwaifu/Housewaifu |
| | |
| | |
| | |
| | |
| | |
| | |
The Corona Company ShipsEdit
Biography
Edit
Argo had formed this crew on a whim, after he had encountered Silver Smith he had found him to be an interesting fellow, So he decided to ask him to set sail with him, promising him to help his research so the Corona Company was born.
Soon after he had run into Robert and Bruce, the beastman duo! He soon found them to be wickedly cool so he had asked them to join his crew, after all he needed a cook and a bear!
After that Silver had encountered Atrus and talked him into joining the crew, at a glance Argo found him a curious fellow so he had asked him to join and found himself a navigator
Exceedingly happy with his crew growth he found himself back in the bar where encountered Kiske his musician and after hearing his ambition Kiske had promised to support Argo in his ambition of becoming the strongest in the sea!
Alliances
Edit
Ad blocker interference detected!
Wikia is a free-to-use site that makes money from advertising. We have a modified experience for viewers using ad blockers

Wikia is not accessible if you've made further modifications. Remove the custom ad blocker rule(s) and the page will load as expected.